There is nothing so soothing as the sound of a gentle breeze blowing through the long slender leaves of the stately
Maiden Grass
and setting the Purple Moor grass swaying gracefully nor the sight of the burgundy-colored frothy clump of Shenandoah Switch grass on a crisp autumn day. That was what I was trying to impart to a friend as we walked around my yard when he had the audacity to say derisively "When you've seen one ornamental grass you've seen them all."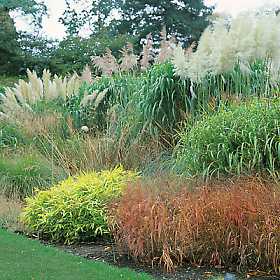 I wanted to throttle him. But then what could I expect from the owner of a golf course? The only grass he likes to see, can easily be replaced by astroturf. He obviously was not a connoisseur of these majestic garden staples. But perhaps you are under the same assumption as my flat, lifeless turf loving pal. I'll fix that!
My love affair with the ornamental grass started with the unassuming and utterly delightful fountain grass, Pennisetum as it is known botanically. I saw it first at the
garden center near my mother-in-law's house. Bribing me with a little romp at that garden center was the only way my husband could get me over there semi-willingly.
The fountain grass had me captivated. It was displayed artfully with other much more impressive flowering perennials and annuals. You'd think a plain clump of grass would be lost in all that color and grandeur but it gave movement to the garden, the texture mixed well and lent an ethereal softness from its arching leaves and feathery flowers. They weren't fabulous flowers by any means. They were subtly-colored, frothy plumes which swayed so delightfully I thought they might just fly away any moment like a moth. I was hooked.
I brought my baby Pennisetum
home and placed it in my perennial border where it still currently resides happily. It grows between 1 and 2 feet tall and when in bloom its flowers, depending on variety can be pink, white or black and double the height of the plant. Of course, Pennisetum is not the only grass in my possession anymore. Allow me to tell you about my collection of ornamental grasses and all the ways they can enliven your yard.
Miscanthus Sinensis, is the most common of ornamental grasses for the home garden and makes a bold statement in the landscape. The long, light green leaves often have a white stripe down the center giving it a lovely glow in the sunshine. Most varieties can reach 6 feet tall and 5 feet wide. I have several of these scattered around tucked in shrub borders, planted along a fence to soften the effect and planted...
.read more.