This will be the first time in about ten years we're to stay home for Christmas. Why this is the case is that Brandon and Tyler are now homeowners and their new home isn't. Isn't new, I mean. It needs a lot done to it before they can live in it. We're talking a new heating system, floors, baths, appliances, the works. Some of the work they can do themselves, but they do need a knowledgeable supervisor of sorts and that would be Tom. So, that's what they will be doing instead of wandering off to a warm place. ~Where is my extra sweater?~
Justin loves Brandon and Tyler's new house
Anyway, I rarely decorate for the holidays ordinarily because I figure, "What's the use if I won't be around to see it?" Well, this time I will be so...I wanted a Christmas tree. But I am the new Lorax, you know, and the thought of getting a cut tree sent an evil shiver up my spine. Yes, I see the cut Christmas tree stands all over town, at Agway, next to the auto shop, at the garden centers, well, everywhere! And I can only think of the massacre.
This tree in front of the house is to be dug up and replanted elsewhere. A job for Tom's new toy.
Yes, I know they are grown specifically for this holiday. I know farmers grow more and more of them each year as the demand grows and therefore there are always more trees being planted--a great thing in my view--- and I try to tell myself that it is no different than cut flowers, sort of like a dozen long stemmed red roses given to a lover. Alas, I cannot convince myself of this. Flowers, for instance the cut-and-come again Zinnia or the perennial favorite the daisy, when you cut a flower, another takes its place. Not so with Christmas trees. Once it is cut, the roots are useless and need to be dug up for mulch.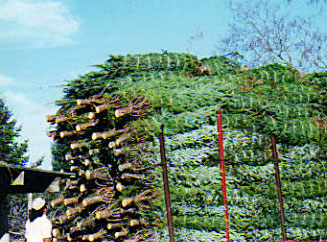 Oh, the humanity!
Balsam firs, spruces and other evergreens used for Christmas trees normally grow about half a foot a year and when properly tended and overly fed, possibly more. This means that 6 foot tree you see in the store is about 6-10 years old and that 10 foot tree was similarly 10-14 years old when their lives were snuffed out. So, when that 80-100 foot high tree is erected at Rockefeller Center or on the White House lawn you can imagine I just about cry. That's at the very least 40-50 years of growth down the drain. Oy, the humanity! Okay, maybe not humanity, but there is no word for this mass flora genocide.
Yes, I know getting a cut tree is tradition. Doesn't mean I like it. So, when I said I wanted a Christmas tree, I never mean a cut one. I could go the artificial way, but have you seen the prices for those at the store??? WOWSA! I'd just as soon not have one at all. We had, when we first got this house, bought
live Christmas trees complete with root ball
which we would plant out in the yard. That worked out fine, but only when we first recalled to dig a hole for the proposed tree sometime in October saving the soil for back fill and hoping it doesn't freeze solid, as sometimes happens. After years of this practice, we ran out of room for trees. So much for that!
Christmas trees become yard ornaments and homes for the birds


So, how was I to get a Christmas tree without going against my illogical principals and without hurting a poor tree which should live to be much older and bigger? Well, this is where Brandon and Tyler's new dwelling came into play. The land on which their house resides is overcrowded with trees. Some have to come down in order to make the driveway big enough for both their cars and some are growing too close to the house, dangerously so. Well, Tommy saw a smallish Eastern Hemlock which was in a bad spot, too close to the house, and if allowed to grow there it would end up damaging the foundation of the house. No, this one had to go and it ended up at my house.
If you know anything about Hemlocks, then you'll know why I call it a Charlie Brown tree. This poor little tree, growing amongst kindred giants with little sunlight and less proper tending, well, let's just say it made for an unusual Christmas tree, limbs sparse and weak. I doubt anyone will envy me this tree.
Is there such a thing as a Christmas Shrub?
Am I complaining? Oh no! I think it's cute in a sort of pathetic way. I also like that this particular tree will have a little flash of grandeur before it makes it's way outside for me to snip its branches to be useful around my more delicate plants, much like a winter blanket. I hope that is how most people will use their cut Christmas trees after the holidays. If not, bring them on over to my house and I will put them to use. Nothing from nature should be wasted, after all. Such is my belief, silly as it may be.
All dress up for Christmas!
Merry Christmas, Charlie Brown!
I always liked your tree best of all.