Little did I know when I started Glory's Garden that I would make such friends from all over the world. The wonders of blogging are many, but it's the fact that I can reach from right here in my modest Pennsylvania home to all corners of the world...and make friends while I'm at it! It truly is a small world now. I'd like to introduce you to some of my pals.
Yes, some of these friends are perfectly normal--thank you very much!-- and some are wacky as can be--Sneak on over to see what
Mac Pike
is up to in
Uncle Mac's Garden Shed
if you question me on that! While others are somewhere in between. It is, however, where they are all from that boggles the mind.
They are not all right here in good old Pennsylvania, just a hop, skip and a jump away like
Julie Helms
and her
Wooly Acres
. No, she's just the first one I've met in person...so far. I have come very close to meeting others, but just never got around to it...yet!
Julie's goat Poptart with her two new babies
Where do these other pals hale from? All over! I can count as friends some as widely spread out as Oman--didn't even know it existed in the middle east until
Mandy Dcosta
came around with her
Mandy's Pages
website for writers-- Somerset, Great Britain where
Charlotte Howard
pens a
novel or two
while raising her two cutie little kids and then there's
Chris West
who makes me laugh-- mostly on Facebook--all the way from Tasmania.
Part of Raymond's bonsai collection
Across our northern border into Canada, we have
Raymond Alexander Kukkee
whom you should all know as
the bonsai guy
from
Incoming Bytes.
Raymond also has a reputation for being a great gardener and--hold on to your glass of milk-- a cookie monster! One of these days I'm going to send that guy some cookies and perhaps he can send me some seeds. For what, I don't know and don't care. you know how much I love seeds! I'll smuggle the cookies into Canada somehow and he can do the same with some seeds--if he wants!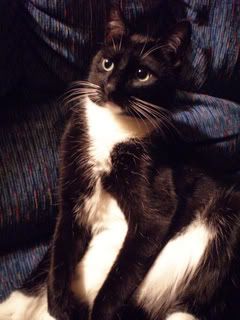 Mickey, Conny's feline buddy
Conny Manero
also hails from Canada,
Under the Toronto Sun
. You know her from her
sky-high balcony garden
. She splits her time blogging about
9-5
work stuff,
writing novels
and spending time in the
Feline Corner
where her kitties frolic about making trouble and occasionally inviting a passing kitty-- like my cat Zebrina when she went over the rainbow bridge.
MJ's Oopsy Daisy Crochet stitch
Back in the states we have
MJ Joachim
in Arizona who splits her time between gardening in her arid desert climate,
writing e-books,
having fun with
Lots of Crochet Stitches
and her website for humanity
Effectively Human.
And then there's Dan Shaw who happens to be the reason I wrote this post in the first place. Dan who writes
The Poor Man's Guide to Survival
became very interested in my
recycled denim series
I wrote for
Self Reliance Works
. He was so impressed in fact, that he decided I could do far more. He was so certain of my endless abilities that he told me a list of other useful items I could try to make out of old denim jeans. But he didn't just tell me. Oh, no! He went out of his way to actually send me three pairs of jeans which he sent his wife Beth to go buy at Good Will. He sent them with instructions on what to make out of them. Talk about Chutzpa!
Denims by post?
Well, I did tell you I get all sorts of folks reading my blog and that's what amazes me about blogging. I have made loads of friends, all kinds. It takes all kinds, you see, to make the world go round and oddly enough, I often get the wackiest of the wacky. What fun!
Oh, and as for Dan's suggested denim projects, I'll be posting those on Craft Tuesdays. I love my readers!